A Snapshot of New Zealand
Economy
For many years New Zealand's earnings were mainly from farm products, such as wool and dairy goods. Today these are combined with new developments such as tourism, film production, and wine-making. New Zealand depends heavily on international trade, especially with Australia, China, the United States, and Japan. Economic free-market reforms from the 1980s have removed many barriers to foreign investment.
Society
New Zealand has a population of 4.5 million people, a similar number to Ireland, Singapore, and Norway. More people live in the North Island than the South Island, and far more live in the cities than in the country.
Auckland, the largest city, is home to many people from the Pacific and Asia who have settled in the past 50 years. A democratically elected government contributes to schools, universities, and hospitals, so New Zealanders are generally well educated, healthy, and have a good standard of living and a relaxed way of life.
Culture
New Zealanders enjoy having fun. Gardening, reading, walking, and going to the beach are popular leisure activities. Sport – both playing and watching – is also very popular, and while the national rugby team are world champions, golf is the most commonly played game. There is a thriving film industry, and much creative art, music, literature, theatre, and fashion design is produced here. There are museums and galleries throughout New Zealand, along with many excellent cafés and restaurants.
New Zealand Geography and Geology
New Zealand is comparable in size to the United Kingdom or the Philippines.  New Zealand has over 15,000 kilometres of beautiful and varied coastline. Nowhere is more than 130km from the ocean.
Lying in the south-west Pacific, New Zealand consists of two main islands–the North Island and the South Island.
You'll find a variety of awesome landscapes and geographical features throughout New Zealand, all within easy reach of each other. Spectacular glaciers, picturesque fiords, rugged mountains, vast plains, rolling hillsides, subtropical forest, volcanic plateau, miles of coastline with gorgeous sandy beaches–it's all here. No wonder New Zealand is becoming so popular as a location for movies for example, The Hobbit and the Lord of the Rings.
The North Island has a 'spine' of mountain ranges running through the middle, with gentle rolling farmland on both sides. The central North Island is dominated by the Volcanic Plateau, an active volcanic and thermal area.
Rotorua is the centre of geothermal tourist activity, with plenty of mud pools, geysers, and hot springs in its active thermal areas. In addition to Rotorua, you can enjoy hot springs and other thermal activity in most regions of the North Island north of Turangi, as well as in Hanmer Springs and the West Coast in the South Island.
The massive Southern Alps form the backbone of the South Island and include a number of glaciers, the largest being Tasman glacier, and the most famous being Franz Josef and Fox Glaciers on the west coast. To the east of the Southern Alps is the rolling farmland of Otago and Southland, and the vast, flat Canterbury Plains.
The Marlborough Sounds and Fiordland in the South Island are examples of high mountain ranges that have 'sunk' into the sea, creating spectacular sounds and fiords. These areas provide some of New Zealand most picturesque scenery, with steep lush hills plunging down to the deep still bays below. Clear, deep still water surrounded by beautiful bush makes these areas ideal for boating and kayaking.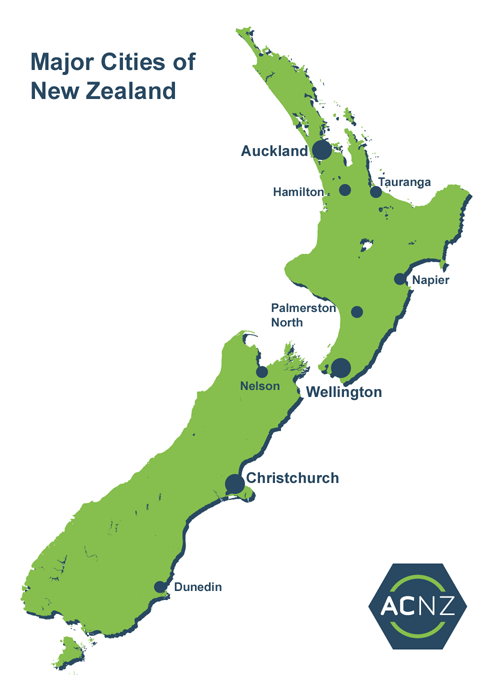 Attractions and Activities
New Zealand has an unlimited range of tourist attractions and activities, located throughout the country. Whether you are looking for adrenaline-pumping adventure, or a relaxing game of golf, there is an activity or attraction to suit everyone's tastes, age, culture and budget in New Zealand.
Adrenaline Activities
Adrenaline activities include: bungy jumping, canyon swinging, climbing and abseiling, gliding and paragliding, jet boating and jet skiing, kart racing, rafting, skiing and snowboarding, skydiving, skyjumping, skywire, zorbing, to name the more popular!
Adventure Activities
Adventure activities include: 4WD and off-roading, bird watching, boats, sailing and charters, canoeing and kayaking, caving and canyoning, diving, events, festivals and shows, family fun, fishing, freshwater fishing, glaciers, hunting and shooting, motorcycling and quad biking, mountain biking, mountaineering, nature and eco-tourism, sailing schools, salt-water fishing, scenic flights, surfing and water sports, tramping and hiking, zoos and wildlife parks.
Relaxing Activities
If you're wanting to relax in New Zealand but don't want to sit around all the time, there is a whole range of activities that you can do. Play a round of golf in some of our top golf courses or spend a day at a winery tasting some of our fine wines.
Relaxing activities include: accommodation for art lovers, art and culture, artists, cafe culture, cuisine and dining, day spas and health spas, entertainment, gardens, heritage and history, horse riding, hot air ballooning, hot pools and health spas, Maori and Pacific culture, meditation retreats, military museums, museums and art galleries, tourist shopping and souvenirs, transport museums, weddings, wineries…the list goes on!
Some links you may find useful
In New Zealand TradeMe (similar to eBay) is used for purchasing both new and used items, ranging from household goods and furniture, homes to rent or buy, cars, clothing, sporting goods etc.
Check out the cost of grocery items:
countdown.co.nz
newworld.co.nz
paknsave.co.nz
For information regarding personal taxation:
Inland Revenue Department: ird.govt.nz
For further information have a look at this web site: